Interview
Mr. Ashutosh Jindal, IAS, Chief Electoral Officer (CEO) of Tripura
TIWN (Tripura InfoWay News)
PHOTO : TIWN
India's Election Commission announced the schedule for the 2014 Lok Sabha election, which will be held in nine phases from April 7, 2014 to May 12, 2014.Tripura will vote for Lok Sabha elections in two phases. The polling dates are April 7 and 12. Office of Tripura's Chief Electoral Officer website http://ceotripura.nic.in/ provides all the necessary information on election in State. At this time of Lok Sabha Polls , CEO's office in state is the epicenter of massive Statewide Election Management activities by different State and Central Govt officials, departments.
CEO of Tripura Mr. Ashutosh Jindal, IAS is well known Nationally and Internationally for his wide expertise, Management skills in conducting Elections in India and Abroad in different roles. Under Mr. Jindal's leadership as CEO of Tripura , Tripura was awarded in Country for best Poll Management alongwith 3 other States . This Presitigious Honour was awarded by Hon. President Pranab Mukherjee to Tripura's CEO Mr. Ashutosh Jindal at Vigyan Bhavan on January 25 , The National Voters Day.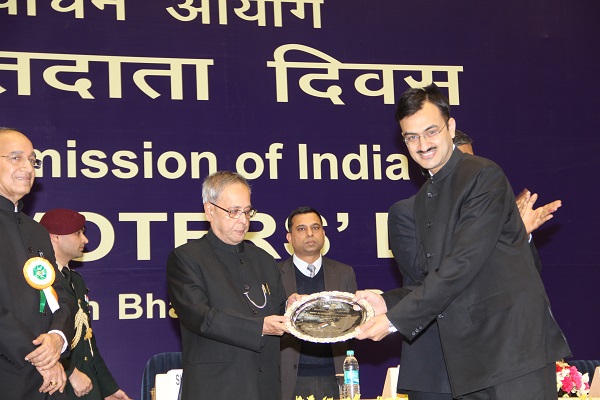 Hon. President Pranab Mukherjee presenting Award for Best Poll Management to Tripura's CEO Mr. Ashutosh Jindal at Vigyan Bhavan on January 25 ,2014 on the National Voters Day.
Chief Electoral Officer of Tripura, Mr. Ashutosh Jindal, IAS outlined the task ahead in an exclusive interview with Tripura InfoWay News (TIWN):

TIWN : Could you describe your role as Chief Electoral Officer (CEO)?
CEO: A Chief Electoral Officer works under directions from and the supervision of Election Commission of India. As CEO, I was responsible for all matters related to preparation and up-dation of Electoral Rolls and for Conduct of Elections to the Parliament / State Assembly in Tripura. This involves a lot of work even when Elections are not being held, as the Electoral rolls have to be constantly updated and the Election materials, particularly EVMs, have to be carefully preserved and taken care of.
Contrary to perception among some quarters, the CEO's role does not extend to conduct of Elections for Panchayats and Municipal bodies.
TIWN: Among the various assignments you have handled, how has conducting elections been?
CEO: I have had long experience of conducting Elections in Tripura, starting with the Simultaneous Elections in 1998 leading up to duties as R.O. of West Tripura PC in 2004. All those elections were conducted very smoothly with support and active cooperation from all political parties.
I would be less than candid if I say that the experience was equally pleasant in the run-up to the recent Assembly Elections, 2013. However, hard work and dedication of the entire election machinery paid off. The polling took place on 14th Feb, 2013 in a completely peaceful manner without any incidents and we had a record turnout too. The State also got appreciation from the Election Commission of India by being conferred the "Award of Excellence" for the year 2013.
When I look back, I find that it has been a highly satisfying experience. One thing we don't appreciate being in Tripura but which is a matter of delight for people from outside is the festive nature of the polling process here. People stand quietly and patiently in queues for hours together and help the polling personnel conduct the polling in a disciplined manner.
TIWN : How are you motivating the young urban people to come & vote?
CEO: We are running series of campaigns in Agartala city and outside to motivate the people to register their names in the electoral rolls and also to come out for voting. As a part of this campaign, a debate & quiz competition was organised in the MBB College a few days back. We are also putting up Hoardings and banners across the City and in the out-lying areas for publicity about the forthcoming elections of 7th and 12th April, 2014. We are also trying to tie up with SLMA for wide publicity through the Adult Literacy Centres in Tripura.
We are also using National Icons, like MS Dhoni, Mary Kom whose video messages are being played on all Cable TV channels.
The basic objective of this exercise is to motivate the voters, particularly the youth, to come out and vote.
TIWN: What are the challenges that the CEO foresees in the upcoming Lok Sabha elections?
CEO: Some of the key challenges that we are facing in managing elections this time are remoteness of some polling stations and the poor telecom connectivity, mobilisation of sufficient manpower for smooth conduct of the polling process (particularly the Central Govt. employees) and availability of bigger vehicles.
From an administrative point of view, managing the issue and casting of Postal ballots was the biggest challenge for us in the last Assembly Elections. And it is so during the current Elections also.
I would like to assure the voters, the Candidates and political parties of Tripura that we are fully geared to address these challenges and we will be able to ensure smooth and peaceful conduct of the polls on both the days.
TIWN: What is being done to tackle the issue of paid news?
CEO: MCMC has already been formed in each district & the said Committee is monitoring all the newspaper content on daily basis. The MCMC has kept rate charts ready for political party advertisements in Print and Electronic media under the custody of DEOs in each district for monitoring.
The Commission has issued detailed instructions for checking the problem of 'paid news' and the State Election machinery is working to implement these instructions in letter and spirit.
TIWN: India is the most democratic popular nation with the largest number of voters in the world. How does the Election Commission manage the whole process?
CEO: The Election Commission has been conducting elections to the Lok Sabha for many decades now. With every Lok Sabha Election, there are newer challenges and the ECI rises to the occasion to ensure that the Elections are conducted in a free, fair and peaceful manner.
To manage this gigantic task, the Commission, polling is scheduled for multiple dates, so that adequate availability of security forces is ensured for the elections in all the States/ UTs. Preparation for this huge administrative exercise starts at least one year before the actual conduct of polls by mobilising electoral materials, particularly the EVMs, and preparation of data base for polling personnel. Steps have also been taken to provide basic minimum facilities at all the polling stations.
I may mention here that ECI conducts the election process through the existing administrative structure of District Collectors and Sub-Divisional Magistrates who work under the supervision of the Election Commission during this period.
TIWN:. Any messages or any suggestion for today's youth?
CEO: We would request all the youth, particularly the first-time voters, to come out and vote on the 7th and 12th April, 2014. It is their duty and democratic responsibility to vote and participate in the exercise.
We would also request all the youth and also other voters to exercise their vote without any fear, favour and influence.